Kate Nartker
Stop Over
October 24 - December 5, 2015
Opening Reception: Saturday, October 24th 4-6pm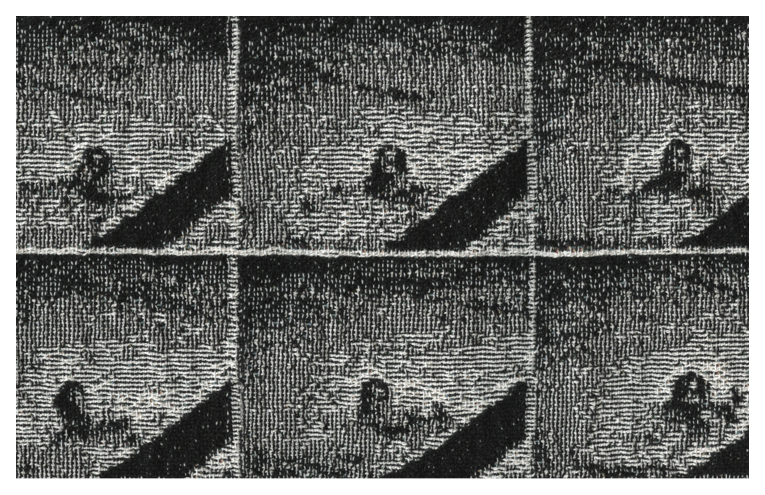 Jack Fischer Gallery is pleased to present a solo exhibition by Kate Nartker.
Typically the press release that announces the exhibition is written by the gallery. In researching what to say and how to understand Nartker's ouvre I found myself hopelessly in awe of the statement I had asked Kate to forge for the show. In the face of her articulateness I decided to simply present what she wrote:
Through weaving, animation, and digital printing I disassemble imagery and narratives. I work between video and cloth to see how these two areas can inform one another, and provide a framework to explore the perceptual nuances related to the haptic and language of cinema.
framework to explore the perceptual nuances related to the haptic and language of cinema.
In my work, I convert video into cloth, and cloth into video. I extend the logic of textiles to film by animating weavings or by weaving printed film frames. In each case, the moving image is structured by the new woven system, and there is a loss of information as events are absorbed and overridden by material translations.
I am also curious how cinematic techniques can be materialized physically to defamiliarize and transform an image. In one body of work, I digitally print stills from films onto silk organza. Through layers of translucent, billowing fabric, I attempt to capture the directional movement of the camera as it pans across a room, or the moment a scene just comes into focus. Here the imagery is captured and arriving, not through the turning of a lens, but through the surface and structure of the material itself. Behind all of my work is the tension between an image and the material it rests on, and the investigative act of deciphering, remembering, or coming to know something.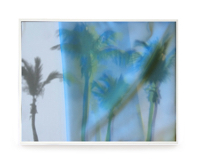 "I picked apart and deconstructed images in different ways. I digitally printed stills onto translucent layers of organza, separated by the CMYK color channels. The pieces are disheveled and restless, sometimes barely holding the image in place. In the animation, scenes go in and out of focus through the shifting scale of the weave structures." - Kate Nartker

Palm CYK 1, 2015, digitally printed silk organza, 24" x 30"
In this show, there will be weavings, digitally printed fabric, and an animation made with jacquard woven cloth.
I worked with stills and sequences from found vacation footage. I chose clumsy, sometimes blurry and accidental scenes from films and materialized them into cloth.
Nartker received her MFA from California College of the Arts in 2012 and awarded the Phelan, Murphy and Cadogan Fellowship in 2011 among other scholarships. She's exhibited in gallery and museum shows throughout the bay area as well as internationally in Norway and Mexico.
stop over opens on October 24th and runs through December 5th. An opening reception will be held on Saturday, October 24th from 4 – 6 pm.